After many years in industrial and commercial roofing, Fort Roofing saw a growing need for a program which assisted building owners and property managersin controlling their roofing maintenance Program (RMP).
RMP is a program of planned inspection, evaluation, implementation and follow up designed to control cost, minimize problems and develop a management system for commercial, industrial and institutional roof systems.
We will be pleased to provide you with complete information which explains the features and benefits of our Roof Maintenance Program.
Your roofing system is a substantial investment. Protect it with Fort's Roof Maintenance Program.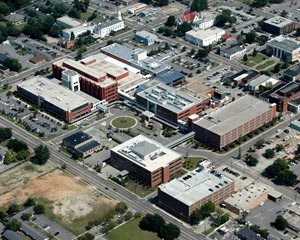 Tuomey Hospital
Sumter, S.C.